AI-Aircraft Editor and other tools
AI-Aircraft Editor
After having created an airport for FS9 or FSX we usually want to see it populated with AI aircraft. To achieve this you need to prepare the airport and write flight plans that direct aircraft from airport to airport. But you will only see a smooth AI operation when your aircraft find a fitting parking place at their destination.
There is no binding standard definition how "large" an AI aircraft model has to be. To make things worse, the method that defines if the size of an aircraft fits on a parking spot differs completely between FS9 and FSX.
To make AI aircraft populate your airport you often have to make adjustments to either the parking spots sizes or to the aircraft parameters.
The scope of AI-Aircraft Editor is to allow changes of all AI relevant aircraft parameters. For each aircraft these parameters are located inside the aircraft.cfg, the model file (mdl) and the aircraft parameter file (air). AI-Aircraft Editor deals with all three types of files. My intention writing this tool was to noticeably reduce the amount of tools needed to do this work (Explorer, Editor, AI BBQ, AFCAD, AirEd).
This is a short overview over the set of features.
edit all locally accessible aircraft folders
quick jump between all active FSX Simobject folders
quick jump to the FS9 aircraft folder
automatically makes backup of aircraft.cfg before AI-Editor makes first change
delete specific set of keys from aircraft.cfg
renumber [fltsim.x] sections
sort keys in all [fltsim.x] sections
change aircraft type (normal/helicopter/ai) in fs9 compatible air files. supports multiple air files per aircraft.cfg
change model radius in fs9 compatible model files
change/batch update of several [fltsim.x] keys
intensive support for editing FSX wingspan value
change/add exit configuration for Jetways support
change/edit/remove aircraft effects
change/edit model, texture and airfile assignment
Click here
for the release history in another tab....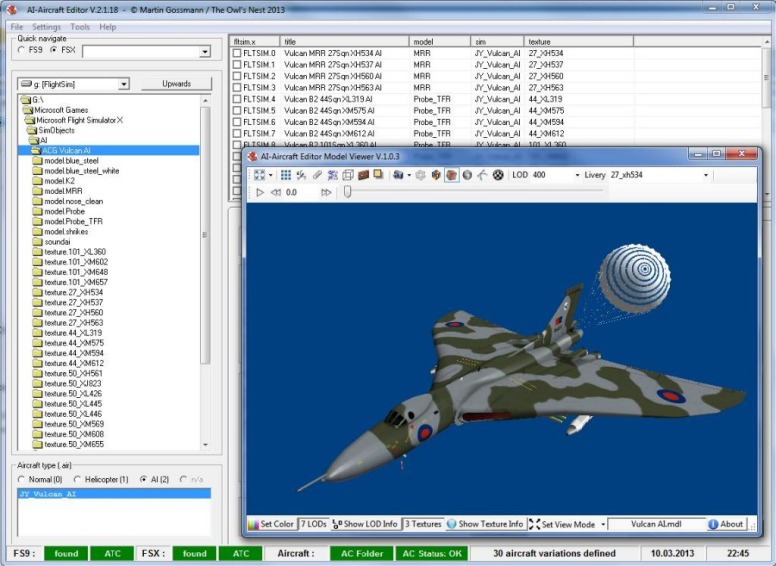 Download this application...
---
ADE9X Environment Checker
ADE Environment Checker is a tool that helps to diagnose issues preventing Airport Design Editor 9x from working. Don't forget: whenever you have problems with ADE, your first point of support is the Airport Design Editor Forum at FSDeveloper.Com.
But if you feel like investigating the background of your issue yourself, this tool gives you a start. And if you ask for help in the forum, the report you can generate with ADE Environment Checker contains valuable information which can make it much easier to support you.
While this tool was specifically designed to support Airport Design Editor, the tests and repair functions might come handy for every flight simulator used computer.
This is a short overview over the set of features.
test for .NET Framework installation
test for MSXML installation
test for SimConnect installation
analyze ADE installation
analyze FS9 installation
change the FS9 installation path
analyze FSX installation
change the FSX installation path
analyze FSX SDK installation
change the FSX-SDK installation path
repair missing trailing backslashes for FS9, FSX and FSX-SDK installation
test for FSUIPC installation (FS9 and FSX)
connect to FS9 via FSUIPC and read position and time from the simulator
connect to FSX via FSUIPC and read position and time from the simulator
connect to FSX via simConnect and read position from the simulator
create a report of system status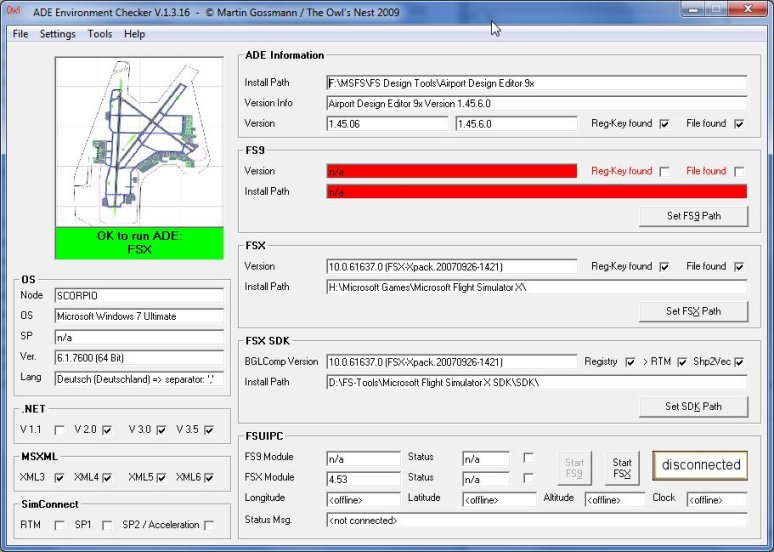 Download this application...
---
MAIW-Menu Creator
Each MAIW package comes with a good Readme file, describing the units, models and airports included as well as giving specific installation instructions where needed. These Readme files are displayed once at the end of the installation. If you want to get back to them later, you most likely will have a hard time chasing the file on your hard disk.
This is where MAIW-Menu Creator comes in. If you point the tool to your MAIW root folder, it will scan the folder tree below and create a shortcut for each Readme found in your Start folder. For this purpose the new program group 'MAIW' is created. Located therein are the regional groups APAC, EMEA, LATAM & NAFTA. Below the regional groups you will find the shortcuts listed in the appropriate country folder.
You can create, update and remove the MAIW program group with the MAIW-Menu Creator. Updated Readme file definitions can be downloaded from within the program.
Download this application...
---
MAIW-Texture Replacer
One of the irritating and obvious issues when porting FS9 aircraft to FSX is the solid disk propeller. This is caused by the propeller texture having an FS9 compatible (white) alpha channel. The whole set of older MAIW aircraft suffer from this behavior.
This is where MAIW-Texture Replacer comes in. If you point the tool to a root folder below which you have the propeller textures (hs-prop.bmp), it will scan the folder tree below, find all occurrences of the texture file, make a backup of the original file and replace it with an FSX compatible version. The textures are not replaced with a generic substitute, but with an edited original. Because of this some unknown textures might not be identified and stay as is.
You can restore the original textures from within MAIW-Texture Replacer.
Download this application...
---
MAIW FSX Installation Guide
Running MAIW packages with FSX is explicitly not supported and by the MAIW team. Still most of their aircraft are as beautiful in FSX as they are in FS9 and I would not want to do without them.
This manual guides you through the steps you need to follow to use MAIW packages in FSX. The recommended FSX setup is Service Pack 2 (or Acceleration) in DirectX 9 mode. SP-2 fixes the bug introduced with SP-1 that causes un-textured model parts to appear in black.
I was motivated to write this tutorial by the excellent thread started by CelticWarrior on the MAIW forum. He was the first providing people who tried to run MAIW packages in FSX with the needed help, tips and tricks.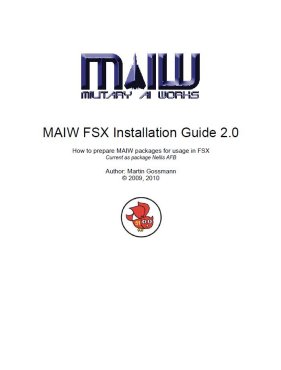 Download this Guide...
---
This page was last modified on Tuesday, 03 May 2022 - 12:43